Gold Coast Cultural Precinct Competition


Client Gold Coast City Council
Competition Open two stage design competition
Winner Ashton Raggatt McDougall

Jury
Gordon Holden, Head of Architecture Griffin University
Tom Tate, Mayor Gold Coast
Donna Gates, Deputy Mayor Gold Coast
Michael Sorkin, Professor & Founder of Terreform
Geoffrey London, Victorian Government Architect
Greg Forgan-Smith, President RAIA Gold Coast Region
Helen Armstrong, Cultural Landscape Research Unit
Destry Puia, GM The Arts Centre Gold Coast
John Kotzas, CEO Queensland Performing Arts Centre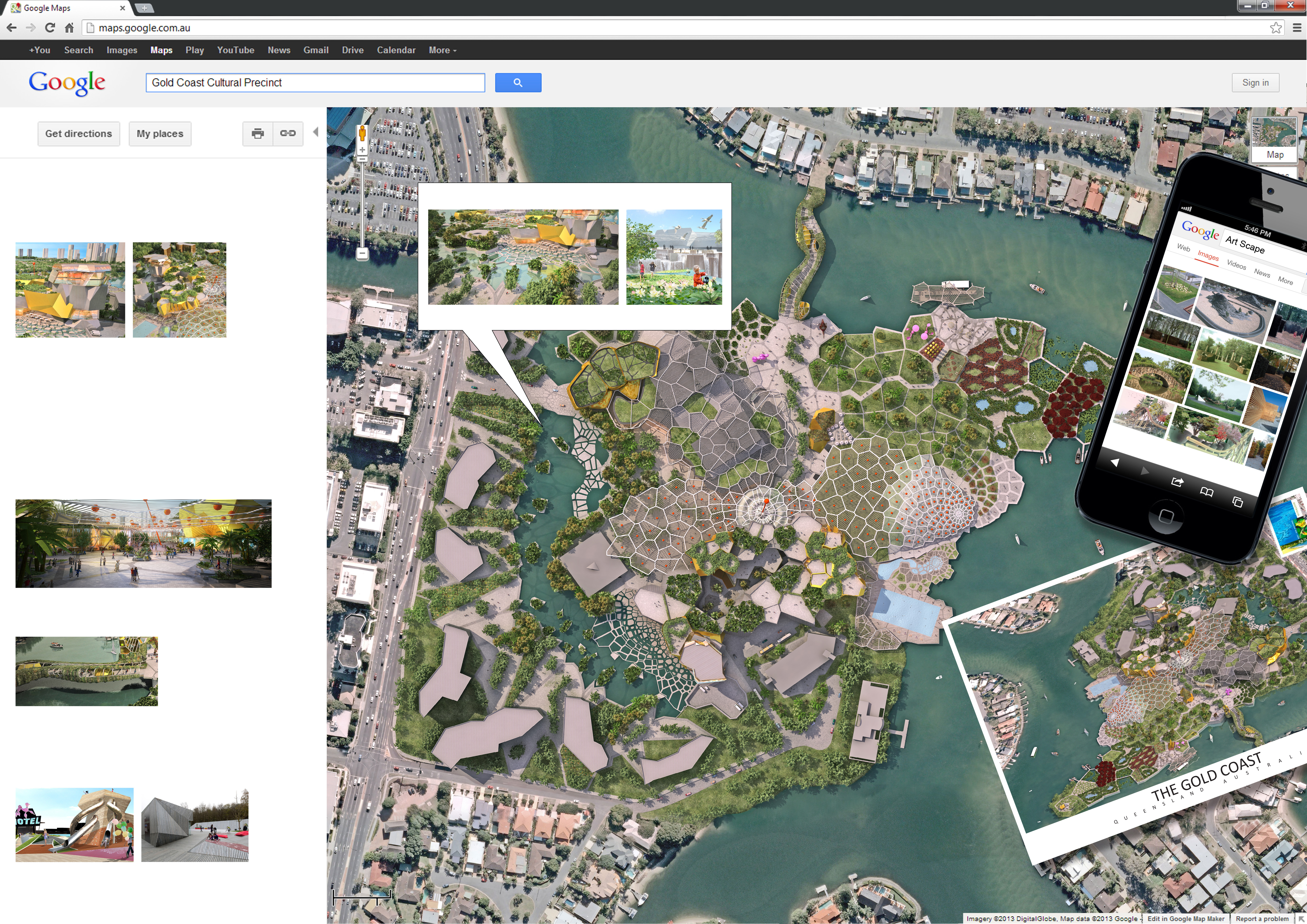 The Gold Coast Cultural Precinct design competition is the first in a series of three key phases to deliver the project:
The design brief called for innovative proposals for an 11-hectare portion of the 16.9 hectare site Evandale to be transformed into a cultural precinct that responded to and captured the Gold Coast's distinctive cultural identity. The competition was held as a two stage design competition from which the winning entry was picked. The designs had to include an unforgettable outdoor Artscape which interfaced with and enveloped the civic cultural buildings and allowed for access connections to the surrounding locality, a distinctive New Arts Museum and a Living Arts Centre that will allow for the development of local talent and deliver excellence in a diverse array of performing arts and cinema. The cultural precinct was set to become a virtual hub establishing the Gold Coast as a place for convergence of culture, art and design online, real-time and mobile networks.
The Design Brief stated that: "The cultural precinct should be distinctive, innovative, engaging, entertaining, productive and characteristically Gold Coast in style. The mix of uses and activities should be diverse, layered and capable of continually evolving to achieve a precinct that brims with vitality, operates costefficiently and delivers a positive impact and reach well beyond its geographic location."
The Design Competition Brief was built from the context of four key documents: the 2010 Gold Coats Cultural and Civic Masterplan, the July 2012 Gold Coast Cultural Resources Audit, the 2012 Evandale to Chevron Island Greenbridge Options Analysis and the 2012 Gold Coast Cultural Precinct Vision.
The site is the freehold title of the Gold Coast City Council and housed the Civic Chambers Building, Gold Coast City Administration Centre and The Arts Centre. The design was to be high profile and also responsive to the surrounding environment. The site is subject to flooding and the built form options had to consider flood zones and storage capacity across the site. The Evandale Site has a large scale, water setting and scenic quality and the designs were to engage meaningfully with these surroundings. The designs also needed high pedestrian accessibility, transport hubs, water transport and an underpass for Bundall Road to increase pedestrian and cycling safety.
A total of $280 million was nominated as the project budget for delivering the cultural precinct. Each Core Capital Component budgets were: Artscape $85 million, New Arts Museum $120 million, Living Arts Centre $100 million, and an extra $25 million for the delivery of a green bridge connecting Evandale to Chevron Island.
The third phase of the project included documenting the delivery of the design.
For more information go
here.