Flinders Street Station Design Competition
State Victoria
Client Major Projects Victoria (now Development Victoria)
Competition Anonymous Open Two Stage Design Competition
Winner HASSELL with Herzog + de Meuron

Jury
Geoffrey London Victorian Government Architect, OVGA
Rob Adams Director of City Design, City of Melbourne
Caroline Bos Co-founder, UNStudio
John Curtis Lawyer, Herbert Smith Freehills
George Calombaris Celebrity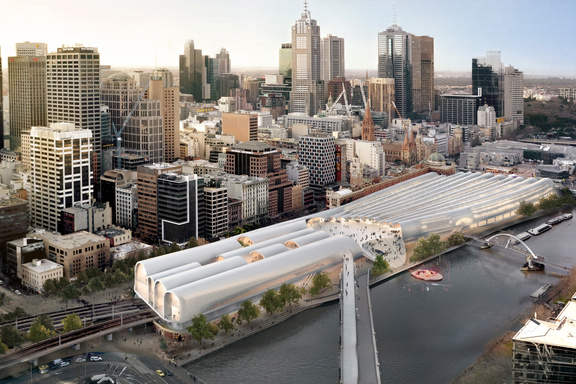 The Competition
The Flinders Street Station Design Competition was held in an effort to rejuvenate and restore Melbourne's iconic Flinders Street Station. CityLab was the Competition Advisor for the high profile competition which received submissions from some of the best designers in Australia and around the world.

The Victorian Government committed to a $1 million prize pool for an international design competition that would attract excellence in design and create a high profile development project for Victoria.

The Brief
The brief was developed in response to a context of growth in Melbourne with the State Government of Victoria expecting the users of the station to double by 2021.

The site of Flinders Street Station covers 5.9 hectares and connects key areas of Melbourne's CBD and major transport locations. Development of the area presented opportunity to create new commercial and public open space in the heart of Melbourne's CBD.

The Winner
The winning design was judged to be a beautiful and compelling integration of aspects of the original station design, strongly reinforcing its gateway status.The design is thoroughly considered on all levels; subtly relates to the existing buildings while it also provides strong and memorable new forms and spaces within a relatively low profile.

The scheme has a careful and conceptually clear attitude to heritage.The design deals extensively with the public realm, examining how the relationship between the station and the adjoining transportation links may be improved.